Speakers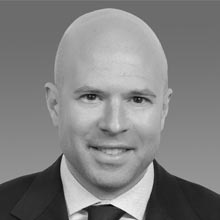 Spencer Baretz
Owner, Founder & CEO of Hellerman-Baretz Communications
Spencer Baretz, dubbed a "communications expert" by American Lawyer Magazine, is a Partner and Co-Founder of Hellerman Baretz Communications (HBC) in New York, one of America's leading boutique PR firms. His experience in media, coupled with his knowledge of the law from working as an attorney for one of the largest corporate law firms in the U.S., allows him to immediately understand intricate business and financial issues. Spencer's efforts routinely result in media placements in and on the country's most prominent media. Among them: expert commentator appearances on nearly every CNBC program, front-page New York Times stories, Wall Street Journal exposés, BusinessWeek feature stories, and countless other media placements in key regional newspapers as well as important industry and trade publications covering hedge funds, finance, law, compliance, HR, among others.

Prior to joining HBC as a partner, Spencer practiced corporate law at Rosenman & Colin LLP (now Katten Muchin Rosenman), where his clients included PR Newswire and other media companies, as well as venture capital, private equity, and financial services firms. Prior to entering his private practice, he served as a law clerk to US District Judge I. Leo Glasser, one of New York's most respected Federal Judges.

Spencer is also an accomplished writer. He has published many articles on a wide range of commercial law topics and is a recognized authority on many different PR and marketing issues. Spencer's writings have appeared in The New York Law Journal, Marketing the Law Firm, Hofstra Law Review, Directorship Magazine, and The Journal of Investment Compliance, among others. He is a member of the Law Firm Media Professionals Group, the Publicity Club of New York, and sits on the Board of Directors of the Legal Marketing Association's New York Chapter, and is a lecturer at its events.

Spencer is admitted to the bars of New York and Connecticut and is a graduate, cum laude, of Boston University, and of Hofstra University School of Law.
Owner, Founder & CEO of Hellerman-Baretz Communications