Speakers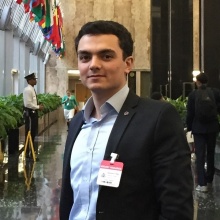 Armen Tavadyan
Assistant to the Chief Coordinator of events dedicated to the Centennial of the Armenian Genocide
After graduating from high school in 2004, Armen got accepted at the State Engineering University of Armenia (Faculty of Information Technologies), where he graduated from in 2008, with a BSc degree in Engineering.
During his studies, he completed a number of internships with various companies, including a law firm, a bank and an insurance company.
Armen spent the next two years (2008-2010) carrying out his military service, during which time he got promoted to the rank of Sergeant.
In 2010, he started his master's program at Yerevan State University (Faculty of Economics) and graduated in 2012 with an MA in International Economic Relations.
Simultaneously, in 2010, he started working at the Department of Methodology and International Relations at the State Audit Institution of Armenia (Civil Service) first as a Specialist and later as Leading (2012) and Chief Specialist (2014).
He started his MSc in International Public Policy at the University College of London (UCL) in 2012. After successfully graduating and receiving a degree in 2013, he returned to Armenia to continue his job with the Civil Service.
Apart from his civil service, Armen was also a member of the team responsible for the organization of "Pan Armenian Games" in 2011 and "Pan Armenian Winter Games" in 2014 (on voluntary basis).
Since 2015, he has been working as an assistant to the Chief of Staff in service to the President of the Republic of Armenia.
Armen was involved in the organization of events related to the Commemoration of the Centennial of the Armenian Genocide as an assistant to the Chief coordinator.
Apart from the abovementioned diplomas, he also holds a certificate as an international auditor (CERTIA, ACCA); Armen speaks Armenian (native), Russian (bilingual), English (IELTS 7.5) and French (limited working proficiency).
Assistant to the Chief Coordinator of events dedicated to the Centennial of the Armenian Genocide