Speakers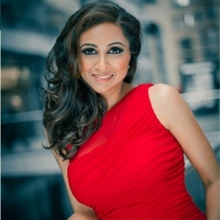 Rasha Goel
US entertainer, International Correspondent, TV Host, Emmy Nominated Producer, Actress
Rasha Goel is a multi-faceted entertainer, International Correspondent, Television Host, Emmy Nominated Producer, and Actress.
Born in Honolulu, Hawaii, Rasha Goel found her footing at a very young age and established herself as a Television Host, International Correspondent, and Red Carpet Reporter in just a few years. With a Bachelor's Degree from UCLA in Communication Studies-Mass Media, she has worked for outlets such as CNN-IBN, ESPN, TV Guide Channel, as well as Warner Bros. and Disney. She is also an anchor/reporter for an Emmy winning Los Angeles news magazine, "LA This Week". On the international front, she has worked with the top South Asian networks including ZEE TV, Times Now, MTV ASIA, STAR TV and is currently with the French Network F24.
Rasha is also an Emmy Nominated producer for the documentary titled "End Homelessness - Know, Believe, Act," and was recognized this year as a Global and Emerging Leader in the South Asian community.
Besides journalism and hosting, her talent has led her to acting opportunities in television and cross-over films. She recently appeared on ABC's "Chasing Life" and filmed HBO's "Wizard of Lies". Her other credits include Muted (HBO), Cupcake Wars (Food Network), Dead End (A&E), Children's Hospital (Swim Network), Outsourced (NBC), Price of Beauty (VH1), among others. Rasha also Co-Produced a web series titled "CHA DO", voicing the difficulties of growing up and being part of an Immigrant family in the US.
US entertainer, International Correspondent, TV Host, Emmy Nominated Producer, Actress