Speakers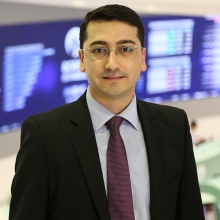 Dr. Murat Mazibas
CFA FRM, Borsa Istanbul
Dr. Mazibas is Head of Research & Business Development at Borsa Istanbul. He runs a number of high profile projects on a wide-variety of areas including establishing energy, metal and other commodity markets, enhancing current and designing new derivative contracts and indexes, advisory and business collaborations with global exchanges, connecting the markets and investing in other exchanges and companies. He also serves as a member of Executive Board of Baku Stock Exchange, Kyrgyz Stock Exchange and Teknopark AS.
He has 16 years of experience in financial markets in a variety of capacities (regulatory side, buy-side, sell-side and academia). He worked at Turkish Treasury and Banking Regulatory and Supervisory Agency until 2006. After completing master and PhD programmes in the UK, he worked as an Assistant Professor of Finance at Xfi Center for Finance & Investment in the University of Exeter. He provided quantitative consultancy to global banks, asset management companies, hedge funds and sovereign wealth funds in the UK, US and Canada. He joined Borsa Istanbul in 2013.
He holds a BSc degree in Economics, an MSc degree in financial econometrics, another MSc degree in Financial Analysis and Fund Management, a PhD degree in Quantitative Finance. He has also earned prestigious CFA and FRM charters along with banking specialist charter.
He is a published researcher in applied quantitative finance and econometrics, Managing Director of Borsa Istanbul Review and a referee to international journals including Journal of Banking and Finance and International Journal of Forecasting.
CFA FRM, Borsa Istanbul