Speakers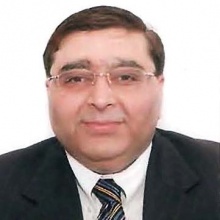 Bharat Patel
Chairman and Managing Director, Sandhya Prakash Ltd
Bharat Patel
Date of Birth: 22nd Jan 1963
Education: Bachelor of Commerce from Hamidia Arts & Commerce College, Bhopal.
Business:
Chairman and Managing Director of Sandhya Prakash Group - Central India's Leading Business House involved in Publishing, Packaging and are expanding into Real Estate / Infrastructure.
Editor: Dainik Sandhya Prakash, Leading Eveninger of Bhopal
Reaching New Horizons:
Under the vision & leadership of Mr. Bharat Patel, Sandhya Prakash Group has gradually shifted the balance toward its retail and infrastructure sectors. This reallocation was conducted to capitalize on the massive requirement of Retail & Infrastructure in India. Demand for Organized Retail is stable in industrial countries and is rising in emerging markets like India in pace with the increase of disposable
income and use of the lifestyle products.
Sandhya Prakash Limited is aiming to conduct business in two blocks: Publication and Paperboard Products on the one hand and Retail and Infrastructure on the other.
Positions Held in the past 3 years:
Chairman, Bhopal Management Association, affiliated with AIMA.
Vice President – Bhopal Chamber of Commerce & Industries.
Vice Chairman, Standing Committee,  Shree Gujarati Samaj, Bhopal
Memberships:
With Leading Bodies in India like:
WAN – World Association of Newspapers,
IFRA – International Feiz Research Association,
INS – Indian Newspaper Society,
AINEC – All India Newspapers Editors Conference,
CII – Confederation of Indian Industries,
FICCI – Federation of Indian Chamber of Commerce  and Industries,
ILNA – Indian Language Newspaper Association,
MPCC – Madhya Pradesh Chamber of Commerce,
BMA – Bhopal Management Association,
BCI – Bhopal Chamber of Commerce,
BSE – Bhopal Stock Exchange
PHD – Chamber of Commerce & Industries,
Apart, Social Groups like Rotary, Lions International, Shree Gujarati Samaj, Bhopal and others Religious Services.
Ex-Member of Steel Consumers Council of Ministry of Steel.
Chairman and Managing Director, Sandhya Prakash Ltd