Speakers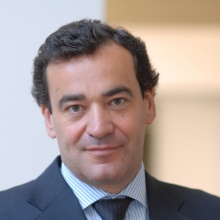 Luis Ramos
Head of Communications, ThyssenKrupp Elevator AG
Luis Ramos had his University studies in engineering (Technical University, Lisbon), followed by post-graduation and executive programs on Communications and Political Marketing (Independent University, Lisbon); Business Management (Stern Business School, NYU, USA) and Branding (North-western University, Kellogg School of Management, USA).
His career started at a market leading PR agency in Portugal (LPM) as Account Manager and then Accounts Director. That was soon followed by various Marketing, Communications and Public Affairs positions in renown multinational conglomerates, such as Director Marketing and Communications at ABB Daimler-Benz Transportation Portugal; Director Communications and Public Affairs for South Europe at Bombardier Transportation; Head of Communications for South Europe, South America and India at Bombardier Transportation.
Currently, he is the Global Head of Communications at ThyssenKrupp Elevator AG.
Head of Communications, ThyssenKrupp Elevator AG