Speakers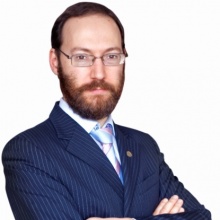 Lev Gordon
co-Founder, IZHEVSK Association for City Development
Lev Gordon has a fine taste for building partnerships through communication and unlocking hidden potential in people, organizations and the cities.
Lev worked in the area of communications, marketing and PR in Europe, Asia, Middle East, Africa and North America since 1997, including positions of Director of Strategic Relationships, Director of Global Business Development, Director of Communications, Marketing and Strategy at ING Group NA out of Amsterdam and New York in 2000-2008. In his roles Lev was responsible for brand and product communications with group affiliates, strategic partners and customers on 5 continents. Lev studied communications, marketing and leadership at Columbia University, Yale University, Harvard University as well as ENST de Bretagne (France) and London Business School.
Lev's projects received multiple recognitions including:
- Prestigious Synergy Award from ING Group for strategic communications campaign uniting corporate decision makers across 35 countries
- Russian National Award "Silver Archer", in the nomination "territory development and promotion" for IZHEVSK Association of City Development - as an example of modern city development through promoting communication among "4 city voices" (business, authorities, non-for-profits and people)
- Russian Regional Award "Silver Archer", in the nomination "territory development and promotion" for URBANFEST project (Forum of Living Cities) for organizing multi-party breakthrough communication for city development.
Lev is a member of Civic Chamber of Izhevsk and Harvard Club. He is a sought-after speaker and industry expert and is often engaged by governments and corporations in Russia and other countries. Lev loves facing challenges and knows that "any obstacle could be overcome". His mission is to turn his native city of Izhevsk into world's leading city in innovation, as well as to turn Russia into a modern progressive country that sets standards in unlocking its people's co-creative potential.
co-Founder, IZHEVSK Association for City Development