Speakers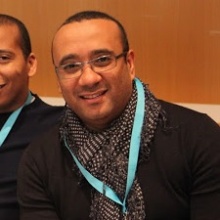 Mohamed Al Ayed
Founder, president and CEO of Trans-Arabian Creative Comms Services (TRACCS)
Mohamed A. Al Ayed is a Saudi national recognized as one of the leading practitioners of public relations in the Middle East. In 1998 he founded Saudi Creative Communications Services (SACCS). The company opened for business with 3 clients and by the end of 1998 it had become one of the leading public relations companies in Saudi Arabia.
In 2001, Al Ayed became the President & CEO of Trans-Arabian Creative Communications Services (TRACCS), expanding the Saudi based company into a new PR network for the Middle East. Currently the TRACCS network has 14 offices across the Middle East. In 2005 Al Ayed founded Arab Conferences Company, Saudi Arabia's first dedicated and specialized conferences organizer - Al Ayed organized and chaired Saudi Arabia's first and only PR conference for 4 consecutive years, drawing approximately 400 of the Kingdom's leading PR practitioners.
Al Ayed is also an active spokesperson on PR issues. He was the only Middle East speaker at the ICCO conference in Prague; he spoke at all IPRA conferences held in Dubai and Cairo from 2004 to 2007. Recently as part of its expansion in Beirut, TRACCS organized the Beirut PR Forum, the first PR event to take place in the Lebanese capital.
A believer and practitioner of Corporate Social Responsibility, Al Ayed organized the first CSR Forum in the Kingdom and spearheaded the National CSR Initiative in Saudi Arabia. He chaired the first CSR Conference held in Kuwait City in 2004. Al Ayed served for two terms as the Vice President of the Western Province for the Arabian Gulf Chapter of IPRA. He is a member of the International Public Relations Association (IPRA) and the International Association of Business Leaders (IABL).
Al Ayed also conducted various media training for top executives of leading companies across the MENA region. He began his career in 1992 as a PR Officer for Saudi Arabian Marketing and Refining Company (SAMAREC - now Saudi Aramco) from 1992 to 1994. After that he joined the country's first dedicated public relations company as a media relations officer/account executive rising quickly to become Group Accounts Director, virtually pioneering the field of commercial public relations in Saudi Arabia.
Mohamed Al Ayed took a high honours degree in Modern Languages with minors in French and Spanish, from Eastern Oregon State University, USA, in 1991 and he was on the "Who's Who" List Among International Students in the US. He holds a diploma in French from the University of Poitiers, France.
Al Ayed is fluent in Arabic, English, French, and Spanish, and proficient in German. Mohamed Al Ayed lives in Jeddah, Saudi Arabia, with his wife and four children.
Founder, president and CEO of Trans-Arabian Creative Comms Services (TRACCS)