Speakers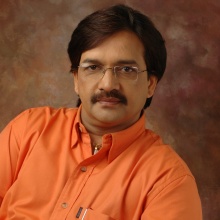 Dr. Raviraj Ahirro
Founder and Chairman of Vasturaviraj Group
Dr. Raviraj Ahirro (PhD) was born on 02.04.1961
Qualification:
Graduation in chemistry from university of Mumbai
Post Graduate in Management studies from University of Mumbai
Phd (Doctorate) in Indian Vastushastra awarded by International Open University, Colombo, in November, 2001.
Dr. Raviraj has been a nationally and internationally acclaimed authority in the field of Vastushastra (Indian Fengshui) for the past seventeen years. He is the Founder of Vastushastra Education Research Foundation and Chairman of Dr. Raviraj Vastu Spiritual Services Pvt. Ltd. Two more companies associated with his name are: Sunraj Manufacturing & Marketing Pvt. Ltd. and Vasturaviraj Designs Pvt. Ltd.
Recognized as:
Most experienced, revered personality in Indian Vastushatra.
Founder of Vastu Remedies without structural demolition.
Regular lecturer at several social, cultural, industrial, academic institutions, associations of business, developers, corporates, chambers of commerce, real estate and infrastructure companies.
Awarded gold medallist for his research paper on peace and harmony in life through Vastushatra, at the International conference held in Mauritius in 2001 and in Colombo, Shrilanka.
Honoured expert who received special appreciation in Asia – Construction 2001 held in New Delhi.
Awarded gold medallist at a conference on alternative medicines in Colombo, November 2001.
PhD with a Doctorate in Vastushastra from the International Open University in Colombo (November 2001).
World-renowned Vastushastra expert.
Expert with 29000+ satisfied clients across the globe, 6000+ students, 3000+ individual Vastu consultants -aiming to develop 50k Vastu consultants and thus make Vastushastra a global service industry.
Speaker with 700+ episodes on various TV channels, articles for 11 leading news papers, hundreds of magazines and periodicals.
Holder of national and international awards: Best Vastu consultant of the year, Vastu Samrat, Pride of the Nation, Vastushree, many gold medals, etc.
Guest lecturer for various engineering, architectural and management institutes, corporate, professional, trade agencies, MNC's with a view to bring harmony and speed up their success rate.
Author of many books on Vastushastra.
Research Activity:
Formed in the year 2005 as a legal entity with a vision of imparting new ethos to Vastushastra, the team at Vasturaviraj group are conducting scientific, analytical and research activities to take Vastushastra to a new height.  After extensive studies, they have developed remedial products.
Areas of research:
Final stage of implementing aura scanning (Human body and Premises)
To reduce risk factors of financial institutes, research in Non Performing Assets is undertaken.
Study of Mobile towers radiation on human body and surrounding
Geopathic Stress
Energy audit
Green Building from Vastushastra perspective.
Impact of Vastushastra on Academic progress, Health, Happy Marital Life, Progeny, Leadership, Career, stability and growth in human life.
Vasturaviraj Vision and Mission
Globalization of Vastushastra with International acceptability through scientific perspective. To maintain liaison with competent authorities to include Vastushastra in Education Programs of UNDP/UNCTAD and UNO.
Taking up Vastushastra Education to the highest level.  Matter was discussed with erstwhile President of India Hon. Mrs. Pratibha Patil for establishment of Premier Open/Deemed University in Maharashtra for Vastushastra with other traditional Indian Sciences.
Striving for making Vastushastra Compliance mandatory for all construction activities.
Ensuring peace, harmony and happiness for the entire mankind through beneficial applications of Vastushastra and enriching human life.
Establishment of a state of the art Library dedicated to Vastushastra.
Bringing Harmony, Success, Progress, Welfare etc. to mankind.
Establishing world renowned university and enroll atleast 40 students for PhD courses.
Corporate training Modules for Designing and Marketing departments.
The founders, Dr. Raviraj M. Ahirrao and Madam Manjushree Ahirrao of Vasturaviraj Group have rendered yeomen's services to the development of Indian Vastushastra through their great enterprise and unceasing efforts and both of them are most revered personalities today in this field.
Founder and Chairman of Vasturaviraj Group