Speakers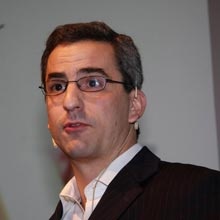 Louis de Schorlemer
ex-Director of Communications (Europe) GALLUP
Louis de Schorlemer has recently joined EuropArea, a multi-country platform for hospitality at international sports events, as Managing Director to drive the implementation of an idea born within the Olympic family.

From 2003 to 2010, Louis assumed the role of director of communications, Europe, at Gallup, in charge of corporate communications and public affairs in the region. He was responsible for the coordinated strategic positioning of the organisation and its reputation building among European institutions, academia and think tanks.

He started his career with DaimlerChrysler, working on strategic marketing projects in Germany, Luxembourg and Australia, before moving to Brussels, where he got involved with a European youth think tank.

Louis holds a Master's degree in Global Marketing Communications from Emerson College, Boston, USA. He is a founding member of the European Association of Communication Directors (EACD), where he coordinates the "Evaluation" working group and he is a member of the board of the Belgian IABC chapter.
ex-Director of Communications (Europe) GALLUP