Speakers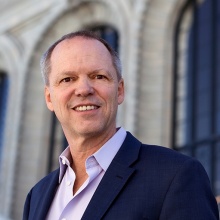 Rich Kylberg
VP Communications and Global Marketing, Arrow Electronics (USA)
Take a serial entrepreneur, add an altruistic core, throw in a dose of chutzpah for good measure, and you have got Rich Kylberg. So the last place you might expect to find a person like Kylberg is in a vice president's chair at an 80-year old, Fortune 150 corporation.
But Kylberg has been defying expectations most of his life.
Whether it was showing up at the starting line of his first Iron-distance triathlon having never participated in a triathlon before, grabbing a camera without a producer to shoot public service announcements as a college intern at a local PBS station, or driving into New Orleans after Hurricane Katrina with nothing more than a copy of his radio station's license as a credential to be able to lend a hand, this is a man who defies gravity while producing results.
His current endeavour: leading the marketing and communications team at Arrow Electronics.
A graduate of Stanford University and Harvard Business School, Kylberg has never been one for linear trajectories. He began his career at the firm owned by his toughest professor at Harvard. Not long after, his entrepreneurial spirit kicked in and ushered him back to the industry he had fallen in love with as a college intern back in Boulder: television.
Kylberg established The Bayard Fund in the early 1990s to help fund television acquisition opportunities and later became president and chairman of CCA, Inc., where he acquired and sold radio stations throughout the United States.
At the close of 2010, long-time friend Mike Long, CEO of Arrow Electronics, reached out to Kylberg to join Arrow as vice president of corporate communications. He enthusiastically accepted, excited at the opportunity to be part of an organization that drives innovation forward.
And it's this very zeal for progress that has enabled him to help Arrow Electronics tell its story and communicate its messages across 58 countries.
In just four years, Kylberg has grown the department to more than 80 team members. His team changed the company's logo and brand messaging for the first time since 1935 and launched the company's first-ever advertising campaign. Kylberg isn't big on whiteboards. He's big on action.
When he's not leading his department toward innovation at Arrow, you'll find him serving one of the organizations that inspire his heart, including the Colorado IT Economic Development Advisory Council, the Young Presidents' Organization, the Denver Metro Chamber of Commerce, and the Colorado Symphony Orchestra.
VP Communications and Global Marketing, Arrow Electronics (USA)