Speakers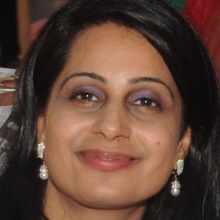 Tanuja Kehar
Vice President, Corporate Communications at Unitech (India)
Tanuja Kehar is quintessentially an Economist by education and a Communicator by passion!
Having a Masters in Business Economics from Delhi University, she has 18 years of rich industry experience spanning across Corporate Communications, Media Relations, Internal Communications, Employer Branding, Crisis Communication & Issue Management, Public Affairs & CSR, Advertising, Branding and Marketing Communications
Currently, she is Vice President- Corporate Communications at Unitech, a large Indian business-group with interests in Real Estate and Infrastructure. She has worked across global corporations like GE, IBM, Deutsche Bank, Infosys in global Communications leadership positions and in global advertising agencies like J Walter Thompson and McCann Erickson.
She started her career at J Walter Thomspon in the Media Planning & Buying Team and was responsible for developing the media and brand-communication strategy of brands like Pepsi, Kellogg's, Horlicks, Junior Horlicks, Reebok, ESPN-Star Sports, Gillette, General Motors, Warner Lambert, De Beers and so forth. Working in large Advertising Agencies during her formative working years, gave her an excellent platform to imbibe branding and communication strategies employed by some of the best brand-marketers in the world, skills which she has built upon and successfully implemented in her subsequent diverse work-assignments.
After having spent 5 years in Advertising Agencies, she decided to move to the corporate side and joined GECIS (part of General Electric) as Communications Manager where she was responsible for Site-Communications and Employer Branding. Thereafter she moved to Infosys BPO as the Branding and Communications Manager. These roles entailed working in fast growing organizations buoyed by India's economic liberalization. In 2005, she moved into a global communications leadership position at an IBM group company and was responsible for the Corporate Communications function in India and Philippines. Her subsequent role in Deutsche Bank where she was heading the global communications for DBOI Global Services in India, USA and UK entailed setting up the Communications function from a base-level up and she was nominated as a top-talent for her contributions to the business and was made part of the valuable employee share scheme.
Tanuja is passionate about the power of Communications and its impact on business imperatives. Since the last 10 years, she has directly worked with CEOs/MDs and has been recognized with various corporate awards. She is a regular speaker at Symposiums and Conferences, some of the recent ones being PRestival, Asia's largest PR Festival, CSR Live Week, World CSR Congress etc. She has also delivered guest-lectures at Delhi University on Marketing and Communication.
She is a proponent of greater women participation in business and is involved with various women business-networks in order to mentor and encourage young women professionals achieve their potential. She is authoring a book on "Women in Business" which is slated to be released in 2015. Tanuja is an avid Yoga practitioner and is over-joyed that United Nations has declared the International Day of Yoga on June 21 which happens to be her birthday.
Vice President, Corporate Communications at Unitech (India)