Speakers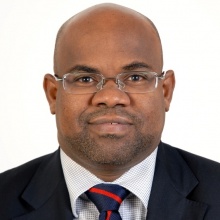 Mohamed Siad Douale
Ambassador of the Republic of Djibouti in Switzerland
H.E. Mohamed Siad Douale is the Permanent Representative of the Republic of Djibouti in Switzerland.
Prior to being appointed Ambassador of the Republic of Djibouti to the United Nations, the WTO and the Swiss Federal Council (Sept 2006), Ambassador Mohamed Siad Douale served as a special envoy to the Somali peace process in as a member of the Facilitation Committee of the IGAD countries.
The Ambassador served on behalf of the African Group as Vice-Chairman of the Council of Human Rights and as Vice -President of the Council of Trade and Development (UNCTAD) at the 54th session.
Upon his arrival in Switzerland (Sept 2006), Mohamed Siad Douale was involved in negotiations on institutional building of the Council of Human Rights. He also served as President of the Francophone Ambassadors Group (2009) and was elected Chairman of the Working Group for the effective implementation of the Declaration and the Plan of Action of Durban for 4 consecutive years (2009-2012). In this capacity, he participated in the High Level Panel held in New York in September 2011 to re-mobilize the political will of states to combat racism on the overall plan.
He led the group's work that resulted in development of the program of action for the decade in favour of people of African descent (December 2014-January 2025). During his tenure, the Ambassador has prepared the submission of the official reports of the Republic of Djibouti to the Universal Periodic Review in 2009 and 2013, as well as the submission of a number of reports of Djibouti to the treaty bodies.
During the Ambassador's mandate, the Republic of Djibouti joined the UNHCR Executive Committee and has been designated by both facilitating parties, the ICRC and Switzerland, member of the International Committee eligible to consider measures and instruments to strengthen respect for international humanitarian law.
He assisted the preparation and submission of Djibouti's investment policy review in April 2013. Similarly, he assured follow-up of all the development stages of the report on Djibouti's trade policy review to the WTO in October 2011.
He was elected President of Development and Intellectual Property Committee (PIAC) in 2012 and re-elected in 2013, for a mandate of two years.
He was elected Chairman of the Advisory Committee of the Group for election of mandate holders for the High Commissioner for Human Rights at the 7th cycle, during three sessions of the Council of Human Rights (2013).
Ambassador of the Republic of Djibouti in Switzerland