Speakers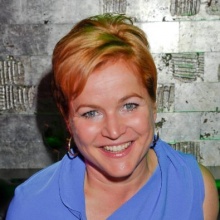 Katja Schleicher
Founder and CEO of Impact! Communication Coaching
Katja Schleicher is a passionate Communication Coach - talking and writing have already become her life companions. She helps her audiences get rid of any communication fears and she has made Storytelling a key communication tool for managers & companies across Europe.
When speaking, Katja wins the audience with a strong stage presence and, no surprise at all - with her outstanding Storytelling. Having listened to her, you naturally desire to express yourself in words and you simply start communicating. As a discussion leader, she is known for her provocative style and very much for her sense of humour. Being truly European herself, she feels at home very much with international audiences and bridges intercultural borders during her speeches & discussions.
After completing her German, English/American Studies, Psychology and Linguistics (Jena & Vienna, Master Degree in Philology), Katja began writing lyrics for various advertising or promotional agencies and she  was also actively advising IT companies in terms of communication. There followed years of public relations, marketing communications and media production (ZDF, Bayern 3) and branding (Manager PR & Corporate Communications at Logitech).
Upon completion of her postgraduate study in business training (Master Degree in Business Training), Katja established her own company: Impact! Communication Coaching, a pan-European oriented training company.
Katja Schleicher continuously follows various training projects in the area of provocative-intuitive coaching, NLP and Energetic Psychology.
She teaches at the journalistic faculty of the University of Vienna and the BAW in Munich.
Founder and CEO of Impact! Communication Coaching