Speakers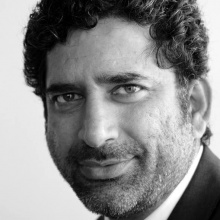 Advait Dikshit
Director of AND Consulting
Advait Dikshit has been the Director of AND Consulting in Mumbai, India for the last 14 years.
Over the past 11 years Advait has been consulting in the domain of leadership and peak-performance.
He has contributed to global organizations including: MSL, Price Waterhouse Coopers , Barclays, JP Morgan, GE, DSM.
His signature strength is to help people open up, step out of their comfort zone and risk   change. A compelling facilitator and speaker, his professional work is driven by the motto "If Knowledge is the vehicle, Experience is the engine and Emotion is the fuel".
Advait believes that much of what he brings to his professional contributions as a 'change agent' is drawn from two significant and divergent experiences in his life:
-Breaking addiction to drugs:
Overcoming this challenge gives his facilitation its authenticity, power and inspirational quality. As a result, the stakeholders begin to view the 'change' not as a threat to resist, but as an adventure to engage in.
-Pushing his comfort zone:
He stayed for 8 months with homeless alcoholics- highly recommended to banish anxiety and improve ability to take risks.
Presently residing in slums of Mumbai, he has undertaken a project to help the community recycle its waste.
In May, he will walk the Negev desert of Israel on foot- A 400 miles journey. Duration: 2 months
As a mark of gratitude for all his mentors, Advait offers free counseling to people struggling with various addictions, including work, cigarettes, food and toxic relationships.