Speakers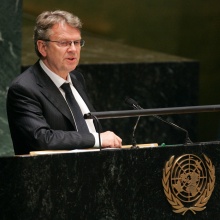 Morten Wetland
Partner and Director of International Relations
Morten Wetland has a background in politics, diplomacy and law. He worked professionally and politically with energy and environmental issues from his work with the Brundtland Commission of the United Nations in the 1980's up until his term as UN ambassador.
Wetland has 12 years of experience from the Office of the Prime Minister where he has served as State Secretary for Gro Harlem Brundtland and Jens Stoltenberg and for a brief period in the Ministry of Oil and Energy. He knows the political process in detail. As a former European Director of Statkraft, he has firsthand knowledge of the Norwegian and European power industries. He has experience as ambassador to Germany as well as in heading important negotiation processes for the Norwegian Government.
Morten was born in 1951 and resides in Oslo.
Partner and Director of International Relations