Speakers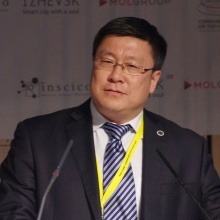 Zhao Dali
Executive Vice President & Secretary General of China International Public Relations Association
Zhao Dali is Executive Vice President & Secretary General of China International Public Relations Association. He was born in Changchun, Jilin province, in 1968. He is of Manchu origin.
His academic studies were completed in 10990, when he graduated from Department of Mathematics of North-East Normal University. Meanwhile, he worked at the Agricultural Reclamation Administration of Heilongjiang Province.
He soon made a change in his career and stared working at the Department of Asian Affairs of China's Ministry of Foreign Affairs.
Among other official posts occupied by him, Mr. Dali served as Research Director and Deputy Secretary General at the Asia-Africa Development & Exchange Society of China in 1996.
He also graduated from the Institute of World Economics, Chinese Academy of Social Science, as a postgraduate student.
Mr. Dali is in his current position since 2010.
Executive Vice President & Secretary General of China International Public Relations Association