Speakers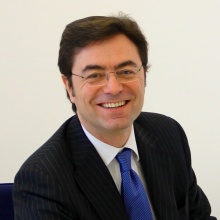 Dicran Babayantz
Head of Marketing and Communications of Value Transformation Services - IBM Subsidiary (Italy)
Dicran Babayantz is Head of Marketing and Communications of Value Transformation Services.
V-TServices is a new company jointly created by UniCredit Business Integrated Solutions (UniCredit's global service company) and IBM, aimed at optimizing infrastructure management leveraging new information technology management services for Unicredit, to be offered to the European financial services companies. The joint venture headquartered in Italy, with 6 data centres and a workforce of around 1,000 financial business process and IT management experts.
Dicran's responsibility spans in all six countries V-TServices operates in, including Italy, Germany, Austria, Czech Republic, Slovakia and Hungary.
In the past Dicran was Manager of Industries Marketing and Market Management IBM Italy in 2011-2013 years, reshaping the "by Industry" organization and approach of Marketing, Communication and Citizenship (MCC Italy) for the "Top 100" IBM customer set, strengthening links between Sales and the Mktg Demand Generation teams, and implementing the new so called MCC Demand System.
Even earlier he covered the role of Marketing Manager Strategy and Planning IBM South and West Europe (2009-2010) being in charge of the marketing portion of the SW-Europe Plan and of incorporating IBM Value Creation strategies into actual countries business as well as designing and implementing mgmt systems to ensure measurable results. On top of his duties he has been called to drive and coordinate Country General Manager level special projects for IBM Italy.
General Manager and CEO of a SME company until 1996, then was hired by IBM. Since then - GM Executive Assistant in 1998 & 1999, then covered responsibilities in shaping, managing and restructuring several BUs (including IBM affiliates) leveraging IT and non-IT innovation to drive business profitable growth (e.g. Mobile, Broadband, Wireless, Internet/e-business, e-marketplaces, RFID, Sensors & Actuators). Next, after 4 years in IBM Global Technology Services (GTS) business development and sales for Energy & Utilities and Telco & Media, he joined the mktg unit at the beginning of 2008 with the double responsibility of as Manager of IBM Innovation Centres and Manager of Event Marketing IBM Italy.
Dicran attended his MBA at Henley Management College (Henley, London, UK) achieving the Executive Management Certificate. Teacher at University of Padova, "Master in Telecom Business" in multiple consecutive editions from 2005 to 2009, until his main working location has been moved to Madrid. Several writings and publications - some of them with the IBM brand.
Head of Marketing and Communications of Value Transformation Services - IBM Subsidiary (Italy)