Speakers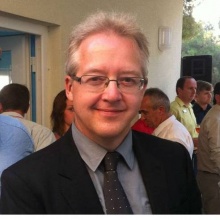 Paul St John Mackintosh
Former Managing Editor at the Asian Venture Capital Journal (Hong Kong), Special Advisor at Capital Communications
Paul St John Mackintosh is a business media professional as well as published poet, writer and translator. He worked for 12 years in Greater China as a journalist and PR executive before moving to Hungary, and is closely familiar with most Central and Eastern European, Asian and Middle Eastern markets. Paul currently works as Senior Consultant with Capital Communications, specializing in international cross-border projects.
For six years prior to moving to Central Europe in 2011, Paul was Managing Editor of the Asian Venture Capital Journal. In this role, he was personally involved in the growth and maturation of Asia Pacific private equity and venture capital from cottage industry beginnings to its current status as the third pillar of the international private equity/VC industry. He is personally acquainted with most of the leading investors, venture capitalists, technopreneurs and private equity leaders across Asia Pacific. At AVCJ, he also supported many significant private equity/VC events across Asia, as commentator, MC, editorial lead and guest speaker.
Before taking on the Managing Editor role at AVCJ, Paul worked for five years in technology and financial PR roles in Hong Kong during and after the peak of the dotcom era tech boom in Asia Pacific, supporting IPOs, major transactions, media relations and profile-raising exercises for technology companies, tech investment firms and internet companies. His past roster of clients in this capacity includes Oracle, Cisco, Adobe, Symantec, Siebel, Polycom, Xilinx [shortlisted, PR Week Awards 2003], Softbank, iSteelAsia.com, iSilk, JD Edwards, Andover E-Pulppaper, Koos Group, TechCap Holdings, etc.
As well as writing on literary, digital publishing, and other topics, Paul still writes regularly on tech investment and private equity for publications in Asia and Europe, with regular attendance at European Venture Capital Association summits and other similar events.
Former Managing Editor at the Asian Venture Capital Journal (Hong Kong), Special Advisor at Capital Communications