Speakers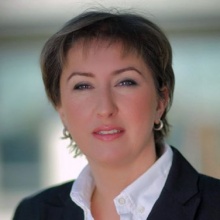 Jelena Sarenac
Vice President of the Serbian Society for Public Relations (DSOJ)
Jelena Sarenac is Head of Corporate Communication at Henkel Serbia and Vice President of the Serbian Society for Public Relations (DSOJ). She has been working at Henkel e since September 2006, being in charge of corporate and brand communication management.
Jelena started her career in 1997 as Public Relations manager at Mercedes-Benz Yugoslavia, in Belgrade. Her main task was managing corporate PR and brand PR for Mercedes-Benz. She remained in charge for PR until 2002. In 1998 she became marketing manager for Mercedes-Benz Yugoslavia, as head of the Marketing Communications department. After the merge with Chrysler into Daimler Crysler, she took responsibility for all brands. During her nine years with this company her team won several awards for best appearance at the Belgrade car show and the award from the Serbian association for PR for the best PR project for public and social affairs in June 2004. In 2006 she was working as planning director in the marketing agency Publicis in Belgrade, mainly in charge for the Coca-Cola account but also for other clients.
Jelena has graduated from the Moscow State University for Economy and she she holds a master degree in media and communication from the Belgrade Singidunum university.
She is fluent in German, Russian, French and English.
Vice President of the Serbian Society for Public Relations (DSOJ)