Speakers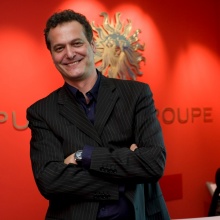 Nikolay Nedelchev
Chairman of the Board at the Bulgarian Association of Public Relations Agencies (BAPRA)
Nikolay Nedelchev is Chairman of the Board at BAPRA (2013-2015). He is also the Founder and CEO of Publicis Consultants MARC, Publicis Groupe, Bulgaria.
He has graduated from the University of National and World Economy with a Master degree of Arts in International Relations.
In 1992, he started his career in the communications business working as Marketing Manager for Apple Computer. He contributed for the successful market entry of the company. Moreover, Apple Computer become one of the most recognized technology brands on the Bulgarian market, with the largest market share among the countries in Central and Eastern Europe.
In 1995, he founded M.A.R.C. – an integrated marketing communications agency. The company grew rapidly due to the successful implementation of new communications programmes for over 15 companies.
His experience covers marketing strategy, corporate communications, crisis/issues management, technology and business-to-business PR.
Nikolay Nedelchev worked as a free-lance journalist for some business publications. He is a member of various organizing committees of Youth movement events.
Chairman of the Board at the Bulgarian Association of Public Relations Agencies (BAPRA)