Speakers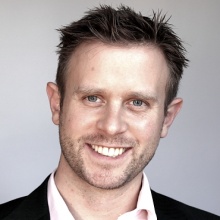 Christian Dougoud
EMEA Customer Success Consultant at Linkedin
Christian Dougoud has recently been appointed as EMEA Customer Success Consultant at Linkedin.
His past possition was Director and Head of digital at EASTWEST Public Relations in UK. He spent the last 6 years in China, designing PR and digital marketing campaigns across Asia - for over 25 international firms and Universities including the University of York, Reading University of, Salford University, IEEE-SA, Phillips, Bayer Crop Science and Morgan Cars.
Christian is a PR and digital marketing specialist with 12 years' experience with positions held in London, Beijing and Lausanne, his home town in Switzerland. Christian holds a master degree in Marketing and currently works from London, consulting on a wide range of Asia focused communication and marketing campaigns across diverse industries.
He is recognized for his published articles, his frequent speaking engagements to present on trend in digital marketing to various international conferences in China, Singapore and UK including the China Britain Business Council, the EUCCC (European Union Chamber of Commerce in China) Marcom, the MBA program of Hamline University, the Australian Chamber of Commerce Marcom, the China Entrepreneur Organisation and the China Entrepreneur's Social Media marketing forum in Beijing, The Knowledge Engineers, among others.
His area of expertise includes Content marketing, Search marketing (SEO, SEM) on Western and Asia search engine: Google, Bing, Baidu, Social Media synchronization (Western & Chinese social media): Facebook, LinkedIn, Youtube, Twitter, Weibo, Weixin (Wechat), Youku, Baidu Baike, and also - Lead Generation programs.
Christian Dougoud speaks English, German, French and he is attaining fluency in Chinese.
EMEA Customer Success Consultant at Linkedin