Speakers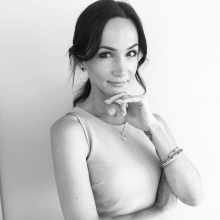 Galina Panina
Coach of Public Speaking and Director PR&GR Leroy Merlin (Russia)
Galina Panina is Director of Public Relations and Government Relations for the biggest DIY French retailer Leroy Merlin.
When previously working in leading international PR Agencies, Galina got an exclusive portfolio of interesting projects. To mention just a few: Informational campaign in Uzbekistan for US library of Congress, informational campaign for US Federal Reserve System, in-house training for the prominent Ukrainian steel holding System Capital Management, informational campaign for Sochi 2014 Olympic Bid... In 2011, as PR Officer for Gas Exporting Forum, Galina organized first Gas Summit in Doha, Qatar.
Galina never stops learning and continuously improves her communication and her professional and personal skills. Since education is one of the areas of high interest for her, Galina is opening her first educational center in Russia for the UK Chartered Institute of Public Relations. According to her vision, this center will provide Russian PR professionals with the opportunity to get international certification in PR, bringing master classes from Europe to Moscow, and also help upgrading the level of the Russian PR market.
Coach of Public Speaking and Director PR&GR Leroy Merlin (Russia)