Speakers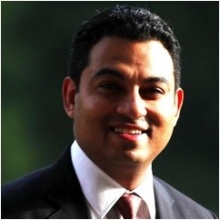 Saurabh Kumar Uboweja
Founder, CEO & Director Brand Strategy at Brands of Desire (India)
Saurabh Kumar Uboweja is the Founder, CEO and Chief Brand Strategist at Brands of Desire, Asia's leading brand consultancy with offices in New Delhi, Mumbai, Munich and Amsterdam. After completing his engineering degree from National Institute of Technology Bhopal and MBA from Indian Institute of Management Kolkata, he joined Citigroup as a key member of the South Asia private banking. He founded Brands of Desire in 2008.
His area of expertise is brand and communication strategy with special focus on creating new brand value and strengthening brand image using a structured approach to branding. Saurabh has worked with some of the most recognized Indian and global brands including Tata Power, Walmart, Nokia, Medtronic, ICICI Bank, Amity University, Koenig Solutions and Liberty Shoes.
In January 2016, he was awarded with the coveted Public Relations Council of India (PRCI) Chanakya Award for National Achievers 2016 under the category – Most Promising Young Entrepreneur of the Year. In March 2015, while representing India, he became the first Indian and only the third person in the world to receive the 'Idea of the Future Award' 2015 at the World Communication Forum in Davos.
In 2014, he was invited to join the Executive Committee of World Communication Forum Association (WCFA) in Davos, Switzerland. As one of the eight members around the world, he represents India while contributing to the global agenda of the WCFA, that is giving shape to its mission of communication sans boundaries, geographical or ideological.
He is the Secretary of the IIM Kolkata Alumni Association (Delhi Chapter) and a proud member of Round Table India.
Saurabh is a well recognized international expert on branding and is frequently published and featured for his views on branding in leading print and electronic media such as Business Standard, The Economic Times, Financial Express, Hindu Business Line, Business Insider, afaqs, Ad Age, World Trademark Review, Hindustan Times, ET NOW and ZEE NEWS.
In his spare time he loves to write about brand philosophy and his amazing business ideas. He firmly believes that India's fortune can change if it learns how to brand itself. To spread the message, he runs a Facebook Page – Building Brand India.
Founder, CEO & Director Brand Strategy at Brands of Desire (India)