Speakers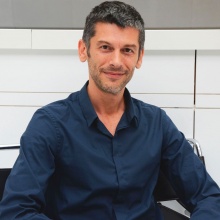 Eric Maillard
Managing Director of Ogilvy Public Relations in France
Eric Maillard joined the Ogilvy Group in 2006 as Managing Director of Ogilvy PR Paris, where he manages a team of 30 specialists in opinion and influence campaigns. He has an in-depth knowledge of the PR arena. A pioneer of social media integration within campaigns beginning in 2004, Eric's core expertise also includes crisis communications and opinion leading campaigns. Eric advises French and multinational companies on their communication strategies and issues.
Author of the blog PR Land and writer for Le plus du Nouvel Observateur, Eric is a recognized PR influencer in France. He is frequently invited to share his PR visions and challenges they pose. He has previously moderated conferences such as  MEDEF (organization that defends the interests of large French companies) Expertise Business Communication Session  on «New golden rules of communication by Content », the Social Media Week on «how social media has revolutionized the fundamentals of crisis communication », Les Echos Conferences on « Enterprise Crisis ».
Eric also shares his expertise with students. He is a professor of crisis communication modules and social media at the European Communication School as well as the University of Jean Moulin Lyon 3, and also teaches philosophy at the University of Besançon.
Before joining the Ogilvy Group, Eric was the Managing Director of Ketchum.
He started his career in 1993 as a Press Officer at the KINGCOM PR agency before joining KODAK's press office for four years. He then joined Thomson Multimedia where he was in charge of PR across Europe.
Eric graduated from l'Ecole Française des Attachés de Presse (EFAP).
Managing Director of Ogilvy Public Relations in France