Speakers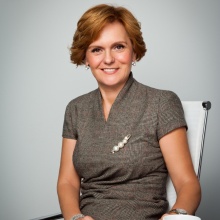 Ankica Mamic
Owner and Director of IM&C Agency
Ankica Mamić has been in the marketing and public relations business for more than 20 years and she is rightly considered to be a PR pioneer in Croatia. She is the owner and director of IM&C Agency, which has been successfully operating in Croatia for over 10 years. As an expert in public relations, she has led some of the most important communication projects in Croatia. IM&C's main characteristics are high-quality, long-term relationships with the general public and individual groups, as well as continuous dedication to enhancement of the image of its clients - companies, institutions and individuals.
Ankica is a member of several renowned international professional associations - International Public Relations Association (IPRA), Chartered Institute of Public Relations (CIPR), European Public Relations Education and Research Association (EUPRERA).
As part of the first generation to gain a CIPR Diploma back in 2008, Ankica was granted the title of a certified CIPR Lecturer. She was among the first lecturers of the CIPR program in Croatia held at the Faculty of Economics in Zagreb in the fall of 2008.
After graduating from the Faculty of Humanities and Social Sciences at the University of Zagreb in 1983, she continued her education at Katoliche Hooge School of Tilburg, in the Seminar "Introduction in anthropology" - Indo-European linguistic circle, during 1984 and 1985, while in the period between 1986 and 2007 she attended various communication and psychology seminars.
She continuously enhanced her knowledge in the communication science by investigating and implementing new trends and new communication strategies in her daily work as a communication and public relations professional. That is how in 2007 she certified her agency as the first and only Croatian agency providing consulting on Word-of-Mouth Marketing strategies. In 2008 she became a certified supervisor by completing a Corporate management course for members of the Supervisory Board at the Faculty of Economics and Business (University of Zagreb).
She is the external lecturer as regards public relations in the practice of the Faculty of Economics (University of Zagreb), the Faculty of Political Science (University of Zagreb), the Communicology department (University of Dubrovnik) and the Zagreb School of economics and management.
The Croatian Government declared a decision in July 2012 that state administration bodies, legal entities, or other state bodies and companies in which the Government has any property interest, should be banned to work with any PR agencies. Ankica Mamić engaged herself in advocating why hiring PR agencies is of crucial importance for all companies, especially the ones that the Government has property interest in. The legal act of banning has seriously affected the local PR market and has put the Croatian agencies in a difficult position, therefore Ms Mamić has devoted her time and efforts to revoking the decision.
"Practising public relations in Croatia is at one hand very challenging, but on the other hand it is truly inspiring! Our market is still young, people don't understand what is it exactly that PRs do and we have to prove ourselves on daily basis, in order to convince them that strategic PR and communications management is crucial for each company success. However, it is worth all the efforts, once mutual understanding and satisfaction are achieved!" shares Ankica Mamić about the PR profession in Croatia.
Owner and Director of IM&C Agency