Speakers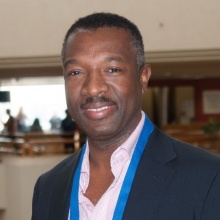 Solly Moeng
Managing Director of DonValley Reputation Managers (South Africa)
Solly Moeng is an experienced General Manager with specialization in holistic Brand Management and Strategic Marketing & Communications. His professional career so far has taken him to Canada, USA and France, where he completed his French MA Degree. He was the South African Tourism Marketing Manager in Canada, based in Toronto, before getting appointed to lead the organisation's operations in the USA. As Country Manager based in New York, he managed the roll-out of South Africa's Tourism Growth Strategy both in the US and Canada.
Fluent in French, Solly has also worked as Business Development & Marketing Manager of Mesure, a South African subsidiary of the French multinational construction company "Bouygues Travaux Publics, Basil Read", a position that enabled him to act from the company head office in St-Quentin-en-Yvelines, just outside Paris. He has also occupied the Marketing & Communications Manager position for CapeNature and the South African Biodiversity Institute which is in charge of the world famous Kirstenbosch, Cape Town, and eight other National Botanical Gardens in South Africa. Solly completed the IMM's Post-Graduate Diploma in Marketing and attended courses at the respected Vega School of Branding.
He is now enrolled for a PhD at the University of Cape Town (UCT), focussing on how the nuclear industry integrates media in its crisis communications.
He has led a large number of consulting teams in:
Assessing Brand Architecture and developing a new Brand Strategy for Eastern Cape Tourism Board;
Developing a National PR & Corporate Communications Strategy for Metrorail.
Developing a Brand Strategy for the erstwhile Cape Oil & Gas Initiative (Cogsi) – now renamed South African Oil & Gas Alliance (SAOGA);
Conducting an assessment of the Hotel Formule 1 Brand, part of the Accor Hospitality Group;
Rendering PR & Communications Services to Chevron South Africa (Pty) Ltd and Lesedi Nuclear Services;
Rendering PR & Communications services to the Cape Winelands District Municipality;
Solly Moeng is currently Head of Corporate Communications & PR at Woolworths, SA. He also founded DonValley Brand, Marketing & Communications.
Extra corporate activities and memberships:
Former President of the Public Relations Institute of Southern Africa (Accredited Public Relations Practitioner);
Former Chairman of Old Mutual 2 Oceans Marathon;
Former Member of the Panel of Judges at the Cape Winelands District Municipality's Annual Mayoral Tourism Awards;
Former President of the French South Africa Chamber of Commerce & Industry, Cape Chapter;
Member of the International Association of Business Communicators (IABC), the Marketing Association of South Africa, and the Southern African Freelancers Association (SAFREA);
Guest Examiner (2010/11/12/13): UCT Electrical Engineering students presentations for Professional Communication Studies.
Judges Panel: 2013 Loeries Awards
Guest Speaker: October 2013, ABCI Comfest-13, Mumbai, India
Solly is also an ex Cape Times columnist and continues to write commissioned articles for other professional and business publications.
Managing Director of DonValley Reputation Managers (South Africa)