Speakers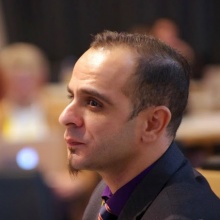 Flavio Oliveira
Global PR Manager at UBM
Flávio Oliveira was born in João Pessoa, the second greenest city in the planet, situated in the Atlantic coastline, Northeast of Brazil. Since the year 2000, he has been living between Brazil, the UK, France and the Netherlands. He is the Global PR Manager at UBM EMEA Amsterdam and #WCFDavos Ambassador for Brazil and the Netherlands.
Flávio holds two BA degrees in Social Communication, one in Advertising & Propaganda (IESP/Brazil) and another in Public Relations (Federal University PB/Brazil) - both with "Cum Lauda" - Honours. In 2013, he graduated in a double Master's degree in International Communication offered by the Geert Hofstede Consortium with specialisations in Digital Communications, PR Skills and Communications' Audit, with studies conducted at Leeds Metropolitan University - UK (with merit) and Hanze University of Applied Sciences - NL.
Flávio has worked in many roles in different communication areas, such as: research, events' management, stakeholder engagement, content creation, industrial networking, intercultural coacher, translator, business interpret, journalism, foreign correspondent and media relations. Flávio has an extensive experience in working in multi-cultural environments considering he has worked with Chinese, Indian, American, English, Dutch, Russian and Brazilian organisations in the course of his career. Flávio's experience with market intelligence includes researches on industrial sectors as Energy, Pharmaceutical, Automobile, Non-alcoholic Beverages and Real State, mostly within the Brazilian territory. He is a specialist in Brazilian culture & business.
From Amsterdam, Flávio provides consultancy on intercultural communication, stakeholder engagement and digital communications. Check out his Global PR Blog-spot.