Speakers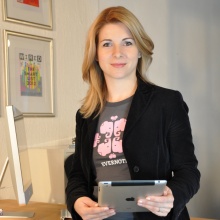 Cristina Riesen
Director Market Development Europe at Evernote
Cristina Reisen is Director Market Development Europe at Evernote, overseeing PR, marketing and sales activities in the region.
During her university studies she has worked as radio editor at Pro Fm, the first private Romanian radio station. After graduating summa cum laude Transilvania University in Brasov, BA English and French, she moved to Switzerland and continued my studies in public relations and corporate communications at the Swiss Public Relations Institute (SPRI - PR Specialist and CAS Corporate Communications). 
For five years she has been working as PR Manager (first junior, then senior) at the GGPR agency in Bern, specialized in design and architecture. During this time she has contributed to the media relations management of several international companies: Dornbracht, Alape, Vitra, Vitra Design Museum, Création Baumann, Designers`Saturday. 
She is a certified Reputation Institute Professional and have graduated in November 2011 the Executive Master of Science in Communications Management of the Università della Svizzera Italiana in collaboration with UCLA Anderson Graduate School of Management. In parallel to studying at USI and UCLA, she has been completely immersed in the world of digital communications and involved in online community management and social media strategy projects for the Volvo Group, Marvin Watches and Engagor.
In February 2012 she has joined Evernote, her dream company, as International Marketing and Public Relations Coordinator.

Specialties: Corporate communications, reputation management, business development.
Director Market Development Europe at Evernote