Speakers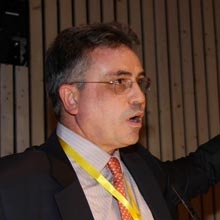 Nicholas Labuschagne
Strategy Advisor for the Media Office, Government of Dubai
Nicholas Labuschagne is a multidisciplinary strategist and visual thinker who has combined public affairs and intercultural communications expertise with over 25 years experience as a corporate strategist within numerous business sectors.
He began his career as a chemical engineering consultant and after graduating with a joint MBA and MA in East Asian Studies from the University of Virginia, he embarked on the derivative markets in the City of London. After Mandela's release, he returned to South Africa to work as a corporate strategist for a South African multinational.
In 1999 Nic moved to Dubai where he began integrating the roles of communicator and strategist. In 2006 he was appointed to the Government of Dubai's Strategic Affairs Committee to manage a number of crucial and sensitive issues. He was responsible for the communications and public affairs efforts that resulted in successful acquisition of multi-billion dollar assets as well as the dismissal of speculative class action lawsuits.
He is presently the strategy advisor to the Government of Dubai Media Office and he is currently reading for an M.Litt in Terrorism Studies at the University of St. Andrews in Scotland.
Strategy Advisor for the Media Office, Government of Dubai