Speakers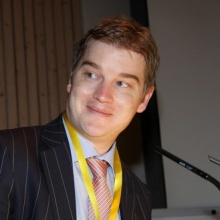 Jolyon Kimble
Associate Director at APCO Worldwide
Kimble, Jolyon is Associate Director at APCO Worldwide, Brussels, Belgium, since August, 2010. Prior to that he was Director for Middle East, Africa and Asia at Sovereign Strategy, based in Kuwait.
He consults widely across the GCC region, and has also worked in Jordan and Lebanon. A corporate communications expert, Jolyon has particular experience in conceiving and implementing strategic communications plans for leading public and private sector companies. He also provides specialised political communications counsel.
Jolyon was previously Editor of Public Affairs News magazine, the global government relations and public affairs magazine, from 2004 until 2006. Before that he was Chief Political Correspondent for the political website ePolitix.com, covering the political stories of the day. He began his career on The House Magazine, the respected journal for MPs and peers, in 1998. Soon after joining he took over the "Committee Corridor" column on The House Magazine, and later began interviewing MPs and peers for the weekly "Profile" feature. He has interviewed over 100 parliamentarians, and written in detail on the full range of subjects across the political spectrum.
Associate Director at APCO Worldwide