WCF | Kyiv 2015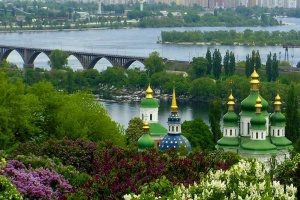 Regional Session
Subject: New communications - Government, Business, Media and Community
The Kyiv session of the World Forum "Communication on Top" (WCFDavos|Kyiv) is one of the world's key events that unites leading global experts in communications. The regional Forum shapes core communications trends defining the industry's future and targets top specialists in communications, government relations and public affairs, as well as business owners and executives who recognize the strategic importance of communications. Representatives of the business community, government, NGOs and media will meet leading Ukrainian and foreign experts to discuss global trends and challenges in this area.
Welcome to Kyiv! - Ëàñêàâî ïðîñèìî äî Êèºâà!
Venue: Museum of Spiritual Treasures of Ukraine, 12 Desyatynna Street
Date: 04 September 2015
For details, please contact:
Organizing Committee WCFDavos Kyiv 2015
e-mail: davoskyiv@agama-communications.com
BOOK ONLINE (see all terms and conditions here)
Join also the virtual FB event - for latest updates!
4th September 2015
9:00 - 9:30
Welcome speeches.
09:00-09:05
Yanina Dubeykovskaya, Founder & Content Director of the annual global WCFDavos summit in Switzerland
09:05-09:10
Iryna Zolotarevych, WCFDavos-Kyiv Organizing Committee Chairperson, WCFDavos Committee Member, PR&GR Services Director at AGAMA communications (Ukraine)
09:10-09:30
Yuriy Stets, Minister of Information Policy of Ukraine
Forum Moderator:
Gianni Catalfamo, Head of Digital & Social Media Leadership boutique cc: catalfamo (Italy)
9:30 - 11:00
The Global Dialogue in the New Geopolitical Realities. Public diplomacy.
09:30-09:45 Keynote.
Dr. Gerlinde Niehus, Head, Engagements Section, NATO Public Diplomacy Division
09:45-10:00 Keynote.
Michael Goedeker, CEO & Founder, Auxilium Cyber Security (Germany)
10:00-11:00 Panel discussion.
Eliav Belotserkovsky, Ambassador of Israel in Ukraine
Dmytro Kuleba, Ambassador-at-Large of the Ministry of International Affairs of Ukraine
Hanna Hopko, Head of the Foreign Affairs Committee of the Verkhovna Rada
Thomas Frellesen, Deputy Head of Delegation of the European Union
Moderator:
Maria Barabash, Project Manager, Ukraine Promotion Program, National Reforms Council of Ukraine
11:30 - 13:00
The Government and Business: a Sustainable Communication Partnership.
11:30-11:45 Keynote.
Aivaras Abromavicius, Minister of Economy and Trade of Ukraine
11:45-12:00 Keynote.
Michael Carney, Senior Vice President & Partner at FleishmanHillard
12:00-13:00 Panel discussion.
Dmytro Shymkiv, Deputy Head of the Presidential Administration of Ukraine
Andriy Pavelko, Head of Parliamentary Committee on Budget in Ukraine
Giorgi Baramidze, Deputy Chairman of the Parliament of Georgia
Timur Khromaev, Head of National Securities and Stock Market Commission in Ukraine
Anna Derevyanko, CEO of the European Business Association in Ukraine
Alla Savchenko, Senior partner & President of BDO LLC - Ukraine
Moderator:
Yaryna Klyuchkovska, Managing Director at GROU - Ukraine
13:45 - 14:00
Stand-alone speech.
Eva Snijders, General Manager and Chief Storytelling Officer at Ogilvy Public Relations, Madrid (Spain)
"Stories that help you grow: how shaping your story can help you succeed."
There are many types of stories. Some of them confirm our world view and lull us into a pleasant sleep. Others, on the contrary, question what we think is real. These stories shake us out of of our dreams and invite us to go outside our comfort zones and enter a place for growth.
In this session, Eva Snijders will share her personal story of growth and the stories that helped her along the way. You will learn new ways to look at your own stories and work with them, in order to achieve success.
14:00 - 15:00
Innovations and Communications: a Productive Symbiosis.
14:00-14:15 Keynote.
Gianni Catalfamo, Head of Digital & Social Media Leadership boutique cc: catalfamo (Italy)
14:15-15:00 Panel discussion.
Tetyana Vasilenko, Executive Chairman, AGAMA communications (Ukraine)
Denis Dovgopoliy, Co-founder and President of the GrowthUP Accelerator, Managing partner of GrowthUP Group (Ukraine)
Michael Goedeker, CEO & Founder, Auxilium Cyber Security (Germany)
Tim Williams, Cultural and Creative Industries Specialist, EU-Eastern Partnership Culture and Creativity Programme
Yuri Mykolyshin, Marketing Manager, Intel (Ukraine)
Moderator:
Maria Fronoschuk, Managing Partner & CMO of new media Platfor.ma (Ukraine)
15:00 - 15:15
Charity lottery.
You're welcome to buy lottery tickets to benefit the Charity Children Cancer Foundation!
15:45 - 16:00
Stand-alone speech.
Tatiana Furtseva, Senior Partner, Country Manager, WE Partners (Ukraine)
16:00 - 16:45
The Media in a Polarized Society: Part of the Problem or Solution?
Panel discussion:
Yevhen Hlibovytskyi, partner at pro.mova, media expert (Ukraine)
Tetiana Pushnova, Executive Producer of Ukraine Today (Ukraine)
Yvetta Delikatnaya, Adviser to the Minister of Information Policy of Ukraine
Moderator:
Natalia Ligachova, Chief Editor of the online edition and print magazine "Telekritika" (Ukraine)
16:45 - 17:45
Cultural Diplomacy – the Way to Mutual Understanding.
Panel discussion:
Natalia Zabolotna, Director of National Art and Culture Museum Complex Mystetskyi Arsenal (Ukraine)
Igor Gaidai, photographer, author of the book "Ukrainians. At the start of the III Millenium" (Ukraine)
Dennis Ivanov, Director, Arthouse Traffic (Ukraine)
Mykola Kobzov, Founder and General Director of Kobzov's Circus (Ukraine)
Dennis Kazvan, Communications Director, Victor Pinchuk Foundation (Ukraine)
Moderator:
Sergiy Koshman, Executive director, Kyiv Institute of Leadership Initiatives (Ukraine)
18:15 - 19:30
Cocktail reception.
C4F Davos Awards Ceremony.