WCFA | USA Trip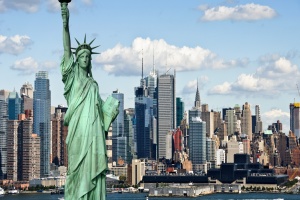 WCFA Travels
Throughout America with Sean Gardner,
Twitter Millionaire*, SM Influencer and Huffington Post Blogger
You start your day switching off the alarm clock on your Apple Iphone and briefly checking the latest news on Facebook. You go to work, posting your Starbucks coffee on Instagram on the way. On entering the office you already know that "millions" of important e-mails are waiting for you on Microsoft Outlook. For your presentation you need some background information – look it up on Wikipedia! And in the evening you watch the next season of "Game of Thrones".
Modern communication was invented in the United States of America and from there it spread over the whole world. Those American guys have taught 7 billion people how to communicate because they are the best in this field. Now we are happy to offer you a unique opportunity! Learn more from the best American communicators on visiting them at their "homes bases".
Together with Sean Gardner, one of the most valuable and influential players of the social media world, you`ll visit the offices of the most important American political, PR, SM and educational organizations in New York, Washington, Los Angeles and San Francisco. Hollywood, Silicon Valley, White House, Times Square and much more are on your way! Make new contacts and collect international experience with the colleagues from WCFA!
Here's why you should join us on our trip to America:
• You'll make important contacts from the biggest world companies in the field of communication;
• International experience will be shared during every planned visit;
• Communication professionals from all around the world will be on tour together, which creates the best opportunity to share ideas and plan future common project;
• See 4 cities in 9 days, do more than 15 business visits;
• WCFA global touch with live-stream to the WCFDavos channels.
*Sean has almost 1 Million followers on Twitter.
For details, please contct:
Aleksandra Antokhina, Mobile: +49 176 4183 6565, E-mail: office@forumdavos.com
You can BOOK ONLINE!
10th August 2017
11:00 - 15:00
Optional Special Session: WCFA's Global Touch at the PR Museum in New York!
In cooperation with the PR Museum and Baruch College!
A special session dedicated to the discussion of the global history of the development of the public relations industry, which will be held in partnership with the PR Museum, in New York, on August 10, 2017.
Shelley Spector, Director of the PR Museum, will share a few details about the development of the public relations industry and her own first steps as a PR professional in her homeland, the United States of America.
Following: speeches of experts from different countries presenting key features of the formation and development of the PR market in their local state or region, as well as the presentation of the booklet "Global PR Stories", which will be prepared specifically for this event.
The agenda as includes networking opportunities during coffee and lunch breaks.
Join the initial steps of writing of the history of the PR and communications industry worldwide!
19:00 - 22:00
New York City: Welcome dinner.
Individualarrival of each participant.
11th August 2017
10:00 - 18:00
New York: UN HQ, PR Museum, and the biggest PR agency.
Visiting.
WCFA event evening uppon arriving  to Washington.
12th August 2017
14:46 - 14:46
Washington DC: White House visit.
Sightseeing.
13th August 2017
10:00 - 18:00
Washington DC - Los Angeles flight.
Arrival.
14th August 2017
10:00 - 18:00
Los Angeles: Hollywood and the biggest PR agency.
Visits.
15th August 2017
10:00 - 18:00
Travel by bus to San Francisco.
Pacific Coast Highway.
16th August 2017
10:00 - 18:00
San Francisco companies visit: HQs of Twitter, Linkedin, Uber.
Sightseeing.
17th August 2017
10:00 - 18:00
Silicon Valley company visits: Facebook, Apple, Coursera.
Sightseeing.
18th August 2017
10:00 - 20:00
Silicon Valley: Stanford University, Tesla.
Sightseeing.
Closing dinner.